Athenry Primary Care Centre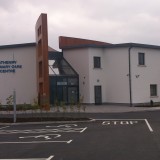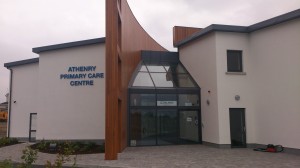 Athenry Primary Care Centre -Now Open
The Athenry Primary Care Centre opened for business on 22nd July 2013. The centre has been developed by Drs Bridget Keane, Ian O'Connor, Michael McGloin and David Meehan of the Athenry Surgery Medical Practice, a practice that has been in existence since 1983.
The new centre consists of the Surgery Medical Practice, a broad range of HSE services  including Public Health Nurses, Registered General Nurse, Dietitian, Home Management Advisor, Occupational Therapist, Physiotherapists and a Speech & Language Therapist.
In addition the centre has been designed to accommodate Jane Ann Healy,  Chartered physiotherapist and athletics specialist,  McSharry's Pharmacy , Specsavers Audiology, Ruth Kilcawley (Dietitian) and Mochabeans coffee dock.
The new development has been designed and constructed to the highest standards with a strong focus on patients.
There is  limited space available to let within the new centre. This is available to suitable Medical Businesses on a sessional or full time basis. Contact – Primary Project Management (PPM) directly on +353 21 487 6244 for further details