Kinsale Primary Care Centre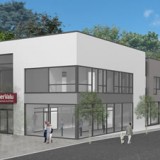 Kinsale Primary Care Centre – Opening in Spring 2014
Construction work is progressing well on a 45,000 sq ft mixed use development which will incorporate a new Primary Care Centre as well as a new Supervalu in Kinsale .
The Primary Care Centre is on target to open in Spring 2014 and will include local GPs as well as a range of HSE and ancillary medical services. The development has been welcomed locally and provides a boost to employment in the town for both the construction and operational phases.
The Kinsale project is another success story for Primary Project Management.
http://www.southernstar.ie/News/New-SuperValu-and-primary-care-centre-for-Kinsale-19072013.htm