Macroom Primary Care Centre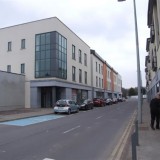 The Macroom Primary Care Centre is located in the Fairgreen Plaza in the heart of  Macroom town.
The 24,000sq ft Macroom Primary Care Team Centre, opened it's doors to the people of Macroom and the surrounding areas in February 2012, bringing together a team of independent and HSE healthcare professionals to working as a Primary Care Team to deliver integrated primary healthcare to the area.
The centre, which was developed under the Government's National Primary Care strategy – 'Primary Care: A New Direction' – offers enhanced primary care services and is one of the first PCT centres of its type in the region.
The centre was developed by local developers, Bondore Ltd. The developers, along with Martin O'Halloran, their project manager, responded to the HSE's calls for Expressions of Interest in 2007 and 2008, and have worked collaboratively with the HSE and the local GPs to develop the project.
The centre currently accommodates 2 GP practices – the Sullane Family Practice (formerly the Medical Centre) and the practice of Dr Ken Harte.The vision and support of the local GPs was key to the success of the Primary Care team Centre in Macroom.
The scale and location of the project was key to attracting a 3,000 sq ft Boots pharmacy . The pharmacy was opened in Nov 2011.
HSE services include Occupational therapy, Physiotherapy, Speech and Language Therapy, Psychology, Public Health Nurses, Social Workers, Dieticians and  Home Help Services. The HSE Dentistry services will be relocating to the new centre shortly.
The development of Primary Care Teams offers a better health service for people in the locality by enabling greater liaison and closer working relationships between all health professionals involved. There is a strong emphasis on moving from a situation where doctors and other healthcare providers work independently to a situation where increased communication and joint working is facilitated by the development of multi-disciplinary team working and regular clinical team meetings. This provides for more cohesive and comprehensive care for patients than previously available.
All the evidence shows that better health outcomes are achieved by bringing these teams of health professionals together. The development of the new Macroom PCT will ensure that people have access to excellent care in their own locality and also presents opportunities for the development of additional healthcare services not previously available in Macroom.
"The aim is to provide a cutting edge facility with enhanced services which will benefit the people of Macroom," said Martin O'Halloran.
"The Macroom Primary Care Centre represents a significant investment -by the HSE, the developers and the GPs – in an improved health infrastructure for the Macroom region.  The centre will deliver the best possible primary care services in modern, custom-built surroundings appropriate to 21st century primary care" he added.
Read the Examiner Article on Macroom Primary Care Centre September 2011 >>