Castlerea Primary Care Centre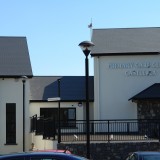 Castlerea Primary Care Centre
The Castlerea Primary Care Centre became operational in September 2012. The Primary Care Centre incorporates the well-established Kelly Henry Medical Centre, as well as counselling services, a pharmacy, audiology , dietitian, private physio and a range of HSE services.
The Kelly Henry medical centre was established almost 40 years ago and was relocated to it's current location in 2005. The centre was officially opened by An Taoiseach Bertie Ahern in 2006.
The HSE held an open day for the local community on 13th September 2012, at the new Primary Care Centre. The Castlerea Primary Care Team, which was established in 2007, is made up of GPs, Public Health Nurses, Practice Nurse, Occupational Therapist, Community Mental Health Nurse, Home Helps, Physiotherapist, Child and Adolescent Psychologist and Speech & Language Therapist. The Castlerea PCT covers Castlerea and the surrounding areas including Ballymoe, Ballinlough Loughglynn , Ballintubber and Trien and is accessible to all patients of the Kelly Henry Medical Centre.
The Open Day at the new Primary Care Centre was a big success and provided information to the public on the availability of the local health services and how people can avail of these services at the Centre. The focus of the centre is to ensure that the local population has improved access to a greater range of health services within their community.
Martin O'Halloran has worked with the Doctors to bring the project to completion and is working on a number of similar primary care centre projects around the country and has specific expertise in running the various stages of the process smoothly.
"The Castlerea Primary Care Centre represents a significant investment – both by the HSE and doctors – in an improved health infrastructure for the Castlerea region.  The centre will deliver the best possible primary care services in modern, custom-built surroundings appropriate to 21st century primary care" he added.